Searching for a Dominican baptism certificate?
We can get it for you!
How much will my Dominican baptism certificate cost?
In most cases we charge a total of
US$210*
= 1) US$95* for the search, then 2) US$115 for the certificate = total of US$210) for an original legalised and apostilled long-form baptism certificate including shipping by certified airmail which generally takes between 2 and 5 weeks to arrive. For details and an order form, go to our
Dominican baptism certificate
order page.
*
If the baptism happened took place before 1956, or if you do not know the date or place of baptism, we charge US$195 for the search fee (instead of the US$95 quoted above)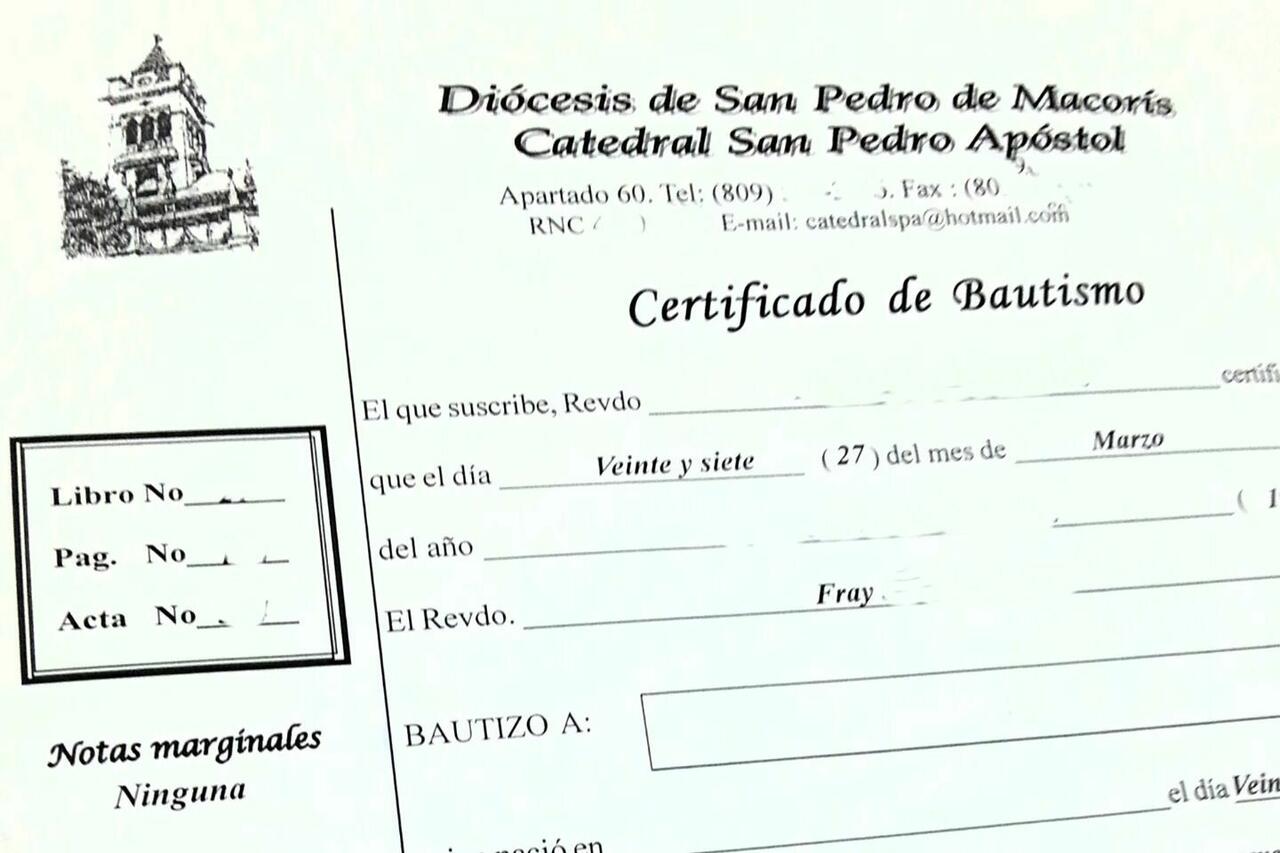 Long before
Dominican registry offices
ever existed, records of birth, baptism, death and marriage were being recorded at churches around the country.
Click to see FAQs about
Dominican baptism certificates
. Or go to our page to order a
Dominican baptism certificate
. So nowadays when searching for old records, church records are often the only records available.
Just complete the form on our
baptism certificate order page
, and we can quote you for our service to search for the Dominican baptism record you require.
Our searches for Dominican baptism records have also taken us to San Cristóbal in the south west of the Dominican Republic.


Once we have found your baptism record, we can offer an all-inclusive package which includes the original Dominican baptism certificate, duly legalized at the Archbishopric of Santo Domingo, and apostilled by the Dominican Foreign Ministry, which makes your baptism certificate legal and recognized in most of the world.
We offer two delivery options: 1) international certified mail dispatched from our local post office in the Dominican Republic with a bar-coded receipt, and 2.) courier company such as DHL.
Dominican Baptism Records
Where we search:
Since many of the foreigners residing in the Dominican Republic at the beginning of the 20th century, lived and worked in San Pedro de Macorís on the south east coast, it follows that most of our inquiries for certificates from very long ago involve San Pedro de Macorís. If we can't find baptism records in San Pedro's cathedral, we continue our search at the Archbishopric of Santo Domingo.