Dominican vital records
Do you need yours?

How much will my Dominican certificate cost?
Our prices vary but in most cases we charge a total of US$210* = 1) US$95* for the search, then 2) US$115 for the certificate = total of US$210) for an original legalised and apostilled long-form certificate including shipping by certified airmail which generally takes between 2 and 8 weeks to arrive. For details and an order form, go to one of the order pages:
* If the birth/death/marriage/divorce took place before 1945, or if you do not know the date or place of the event, we charge US$195 for the search fee (instead of the US$95 quoted above)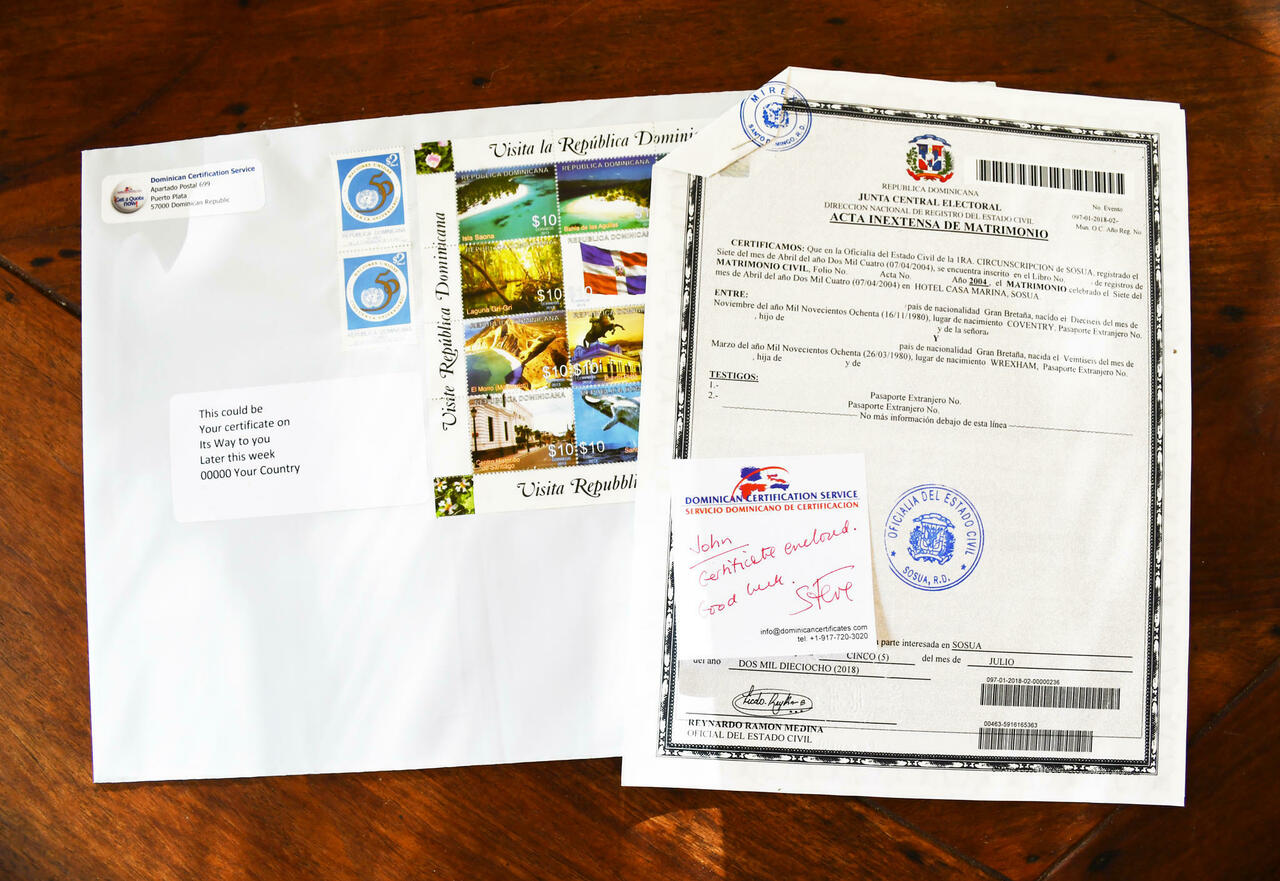 So wherever you were married in the Dominican Republic, if you now require an original extract of your marriage record, or if you'd like us to have your existing documentation legalized with an apostille from the Dominican Foreign Ministry, with our extensive coverage of the country through the tourism activities of our sister company
Cocotours
, we can can help you.
If a family member or a friend died in the Dominican Republic, we can obtain a copy of the
Dominican death certificate.
Our enquiries come from many different sources:
From non-Dominicans who married in the Dominican Republic, mainly in Playa Dorada and Punta Cana in the Nineties and the Noughties, who have either mislaid their Dominican marriage certificate, or never ever received it after they had been promised it would be mailed to them.
From Dominicans now living overseas who require a copy of their own birth certificate or their parents' or grandparents' marriage certificate or death certificate.
From lawyers representing any of the above.
From law-enforcement officials, state troopers, police and deportation officers wanting to verify dates of birth of persons of interest.
From insurance companies and investigations agencies asking us to conduct investigations for them.
Dominican marriage certificates
Unsolicited comments from our clients:
"Thanks again .. First bit of this divorce that has gone smoothly" from MD
"Just received the birth certificate. You have just made me the happiest man alive! Thank you very much for your service and I pray that your business excels in all ways. Happy New Year." from Peter
"Thank you for the great service in helping us to attain our marriage certificate. I will definitely be referring you to other people I know who may be in the same situation I was in." from MM
"Thanks for you help in sorting this out, first class service!" from Darren
"Wonderful and efficient service. Would recommend you to anyone" from AM

"After a year of searching for ways and making appointments with lawyers to obtain my grandparents' marriage certificate so that I could renew my passport, was very frustrating and that whole year I was without a passport. I then started to google and search the internet, then I found your website where I contacted Steven who helped me and kept me informed every step of the way what was going on. I could not believe that I had actually gotten through, while other law firms were taking months and still up to today they haven't found anything. Thanks to Steve and his team I am now able to renew my passport and travel." from WZ,
"I have received my wedding certificate & translation. Thank you do much for all your help. I wish I had known about your services much earlier." from LM
"Once again thank you, you have achieved a result that we have been trying to resolve for 5 years."
from V
"Many thanks. You have provided a very professional service. I can't thank you enough. Best Regards, Dean"

"We are a firm of solicitors based in North West England. Our client instructed us to petition for divorce in the UK however unfortunately her husband decided to take the marriage certificate in the hope this would delay proceedings. As our client married her husband in the Dominican Republic we had to find a company to locate, certify and send the marriage certificate to us. When we began searching Google we came across a company called Cocotours and contacted them via email. We received a response from Mr Steve McQueen very shortly after our initial enquiry and he provided us with a very reasonable quote to fulfil our instructions. Sure enough, he delivered exactly what he promised and kept us fully informed on a regular basis. I certainly recommend Cocotours! Thank you Steve!
"I just wanted to say a very big thank you for supplying my marriage certificates, they are now safely in my possession. It has been a pleasure to deal with you and you have been very helpful all the way. Thank you kindly." from "A" about our Dominican certificate service.


Order forms and a list of our rates for obtaining your certificates can be found by following these links:
To order a document, click on the link to the relevant order form above.
Enquiry form below.
If you want to know how much we charge, or wish to order then click on one of the options above
. For everything else, feel free to fill out the form below.