Dominican Republic divorce records: Q&A
Questions we often get asked
How much will a Dominican divorce certificate cost?
In most cases we charge a total of
US$210*
= 1) US$95* for the search, then 2) US$115 for the certificate = total of US$210) for an original legalised and apostilled long-form divorce certificate including shipping by certified airmail which generally takes between 2 and 5 weeks to arrive. For details and an order form, go to our
Dominican divorce documents
order page.
*
If the divorce occurred before 1945, or if you do not know the date or place of birth, we charge US$195 for the search fee (instead of the US$95 quoted above).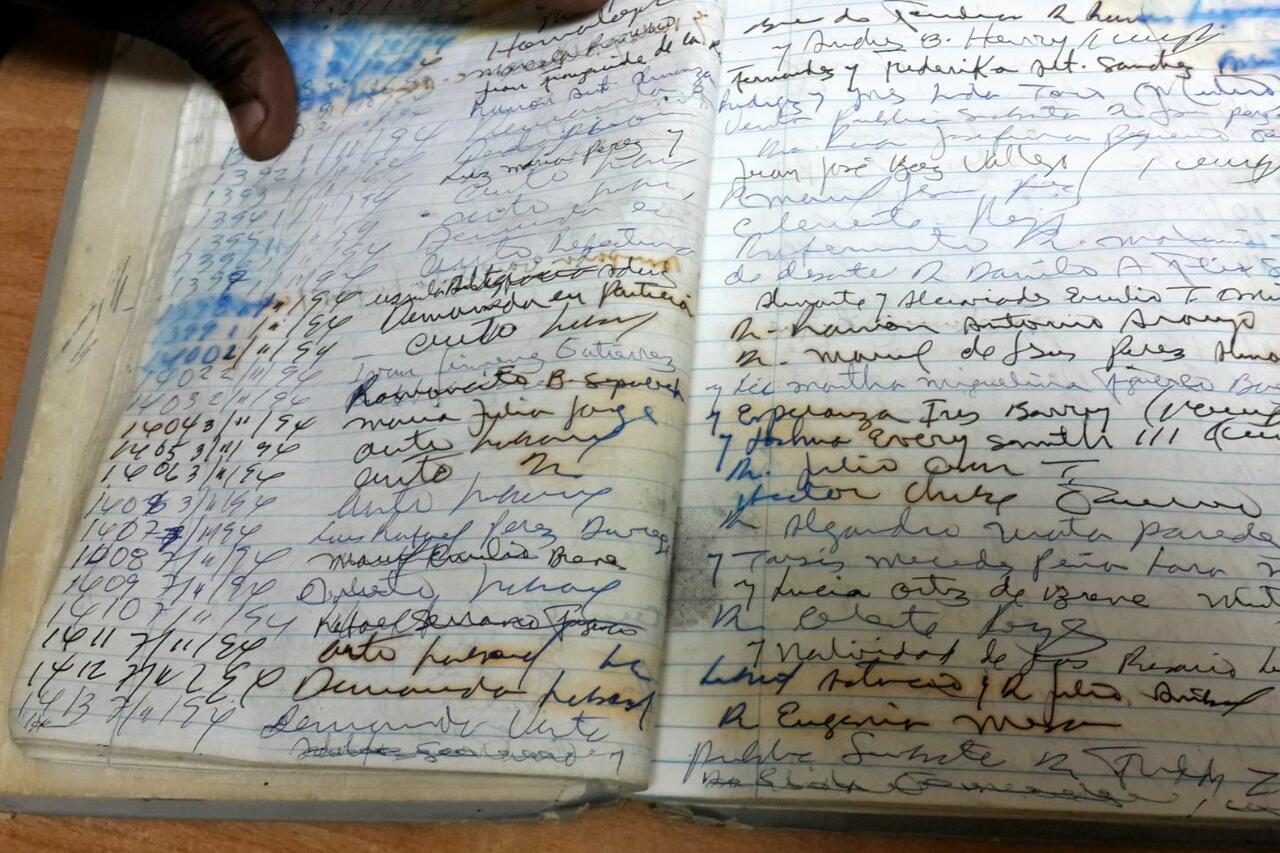 Searching for a Dominican divorce decrees in Santo Domingo
Questions we have been asked by our clients:
How do I know if I am divorced?
We get asked this question by many Dominicans and other latinos from the USA. Usually the spouses are separated, perhaps for many years already, some years ago one of the spouses told the other that he/she was going to the DR to take care of the divorce only to never be heard of again. The person who contacts us now wishes to marry again, and needs proof of the divorce. We can help.
What other Dominican divorce documents can you obtain for us? Other than Dominican divorce certificates, we can also obtain the following:
product

details

cost

Your Dominican divorce certificate

The divorce certificate is definitive proof that the divorce is irreversible and final, and that the marriage ended. Cost for an original long-form divorce certificate with legalisation and apostille.

US$115

Your Dominican divorce decree

From the court, we shall have it certified and apostilled for it to be valid in most countries.

US$295

Your entire divorce file from the Dominican court

This includes:


A certified and apostilled divorce decree.
All documentation on file in the courthouse relating to your divorce such as copies of custody/separation agreements etc, and perhaps even a copy of the divorce announcement which appeared in the newspaper. Because not all of these documents were issued by the court (newspaper announcement etc), the entire file cannot be legalised or apostilled, only the decree.

US$395

Special deluxe Dominican divorce




documentation




package

For all of the following:


Divorce certificate (legalised & apostilled) including translation into English.
Divorce decree (certified & apostilled), translation not included but we can quote for this once we have seen the decree.
Copy of entire divorce file from the court (see above)
Shipping by DHL.

US$595
I am an attorney in the USA, representing a client who was granted a divorce in the Dominican Republic between 1/1/87 and 12/31/88? We are unsure of the exact date and place.
Thanks, you've already told me that both your client and his ex-wife are non-Dominicans, which makes our search like the proverbial needle in the haystack. We can charge you for a search of the electronic database, and who knows, we may strike it lucky, and locate the divorce record, but I doubt we shall locate it. The only reliable way for us to locate the record would be if your client can tell us where and when the divorce was decreed.
My ex-husband and I were divorced in the late 1970s a short drive outside Santo Domingo, I cannot find the papers. It was not a long drive as I remember but a very rural village at the time. The TV program "60 Minutes" had done a special on Dominican Republic divorces so it was around that year but I can't find info on it online.
Thanks, without more specific details, it would be like searching for a needle in a haystack, since most old divorce records remain only in the original ledgers, and have not yet been entered into the registry offices' electronic database.
I have recently re-married but never received a copy of my Dominican divorce certificate from my first marriage.
Please complete our form on this page and we'll send you a quotation for our services.
My ex-wife and I divorced in Santo Domingo in 1980, and I now need a copy of our Dominican divorce certificate. If I give you the approximate date of the divorce, and our full names, would you be able to help?
Possibly. Many old records are not in the registry-office database, so if your divorce record hasn't been computerized, we have to search manually. Santo Domingo has 16 registry offices, so to save us lots of legwork and telephone calls, please send us as much information as possible, for example, do you remember the name of your lawyer?
I need a copy of my divorce papers, my husband at the time came to Haiti for the divorce.
Thanks, but we only handle cases involving Dominican public records, not those from Haiti.
I got married to a Dominican national in the Dominican Republic back in 2001 is it possible to check if my husband has divorced me without my knowledge?
Yes, please complete our order form, and send us his date of birth and preferably his cédula/ID card number

I want a copy of my divorce papers but I'm not sure of the year and the date but it was in Tamboril please help.
Thanks, if you send us your cédula (Dominican ID card) number, we may be able to track it down. Otherwise, unless your divorce record is in the registry-office database, since you don't even know an approximate date, it's going to be difficult for us to search.
Click
here
to check out our prices and to order a Dominican Republic divorce decrees and certificates.
If you have a question which is not answered on our order form, please fill out the form below: